I was reading today from the Karl Koch III book
Men of Steel: The Story of the Family that Built the World Trade Center
where on page 337 is a modification not found in the NIST report... to my knowledge.
Wherever they could, they [the Port Authority] threw us extra work. The Fuji Bank, which would be occupying floors 79 through 82, wanted to install a 10,000-pound safe. It was too heavy to put in without extra load-bearing support, so we welded plates onto both sides of columns in the core, all the way down to the basement. We also were given extra work installing dampers....
Searching for more, I did find mention of this by Shyam Sunder in a public question/answer session here:
http://www.nist.gov/el/disasterstudies/wtc/upload/Public-Transcript-021204-Final1_withlinks.pdf
From that:
Elizabeth Madsen: Good afternoon. My name is Elizabeth Madsen. My husband Bob was in
Tower Two on the – his office was on 96. He was at Fiduciary Trust Company. I just wonder – I
know that both towers had considerable financial institutions in them. All of those financial institutions had safes, and those safes had to be reinforced for many floors below them with extra concrete. Do they have anything if one of those let loose, did they – did that have anything to do with some of those towers, either one of them, collapsing? I've not read anything about that.
Dr. Sunder: Thank you for your question. As we are building our models, we are reviewing the actual modifications that were made to the buildings after they were initially designed. And we have come up with three or four significant modifications, one of which was when Fuji Bank wanted to install a safe. I believe it was in Tower Two. I may be wrong, but it was high up in the building, and was supposed to be a 10,000 pound safe. And they did strengthen columns that supported the safe, and the strengthening went for 30 or 40 stories below where the safe was to be kept. So I do know that there was reinforcement done for that one example.
E. Madsen: If that 10,000 pound vault let go, could that have pulled the towers with them, or helped to?
Dr. Sunder: My sense is, probably a 10,000 – remember, there were 200,000 tons of steel in the building.
E. Madsen: Yes.
Dr Sunder: So the 10,000 pounds is important when it comes to a single floor, but when it comes to a collection of floors, 10, 20, 30 floors, 10,000 becomes a small fraction of the total load. But it is something that is part of our model, and we will include it as we analyze the collapse.
E. Madsen: Thank you.
Dr. Hill: Okay, thank you all for your questions. Let me review what's going to take place for the
rest of the afternoon.
Sadly we don't know what floor the safe was on, but we do know that on floor 81 there was more than one reinforcement done to two-way trusses for UPS batteries.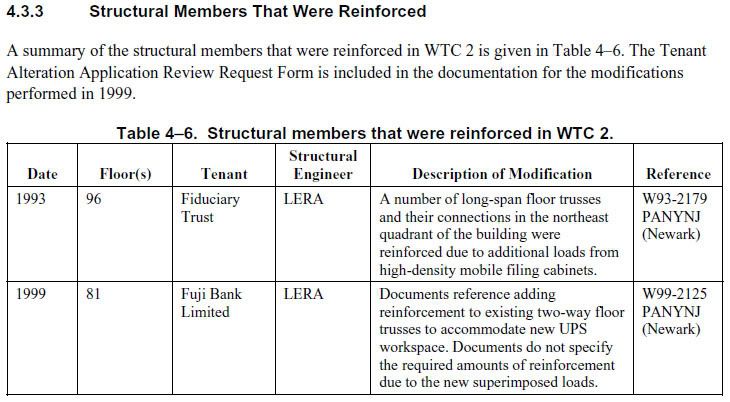 NCSTAR 1-1C also another reinforcement
from 1991
I think the reinforcements were done in the NE corner where the UAL175 engine tore through, as evidenced by volatile fire centered there.
NCSTAR 1-5F -- revised floor plan provided by building occupant

NCSTAR 1-5F
I found it suspicious that the 1971 (?) structural reinforcement was not included in the NIST report.