I was following the topic WTC7 and the girder walk-off between column 79 and 44 on the jref forum. Even though I haven't been that interested in WTC 7, since I recently reacquired ABAQUS, I thought I would go ahead and model the area in question.
The first two images are full scale models of the columns and girders between column 79 and 44. One shows the floor removed.
Larger Image 1
Larger Image 2
I rested the girder between columns 79 and 44 on the support plates, free to move. I placed a 50 psf load on the floor at room temperature, heated to 500F (260 C), and 1000F (538 C).
The results are shown in the next three images which show the support plate on the built up Column 79: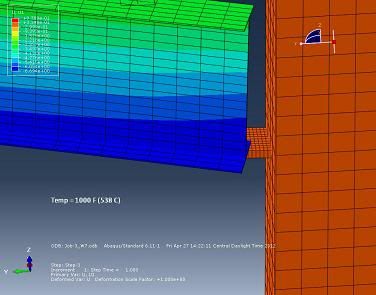 Larger Image 3
Larger Image 4
Larger Image 5
Very little movement occurred at room temperature. At 500 F, the girder moved about 3.4 inches and at 1000 F, the girder moved 6.7 inches. The last two images show the overall model with and without the floor.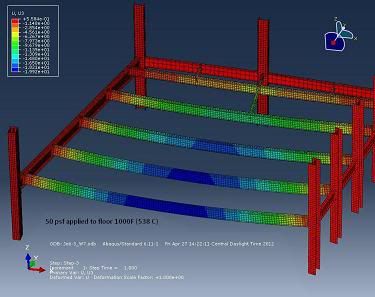 Larger Image 6
Larger Image 7